Hello friends! This time a very short trip to Estonia, Latvia and Lithuania.
The so-called Baltic republics are often mentioned all together and in fact their history is very similar, especially since when they became part of the Russian empire (from 1721 the first two after a century under the Kingdom of Sweden, since 1795 Lithuania after the break-up of the Polish–Lithuanian Commonwealth). After a period of independence between the two world wars, they were occupied again by the Russian Empire, in its version of Soviet Union, until 1991 when they gained independence again. During both world wars they were also invaded by the Germans.
I put the photos with comments.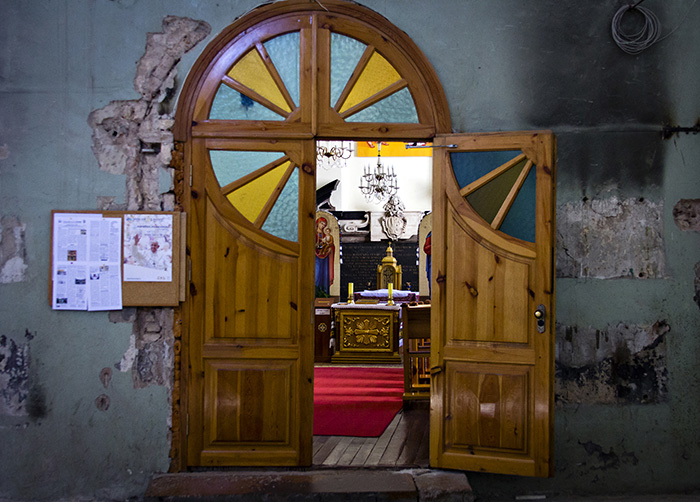 Church behind a door in Vilnius, Lithuania .
Several religions co-existed in Lithuania, resisting invaders of other creeds and atheists. Despite centuries of foreign domination, the Baltic republics have managed to preserve their traditions, their language, their culture and their religions, in short their soul.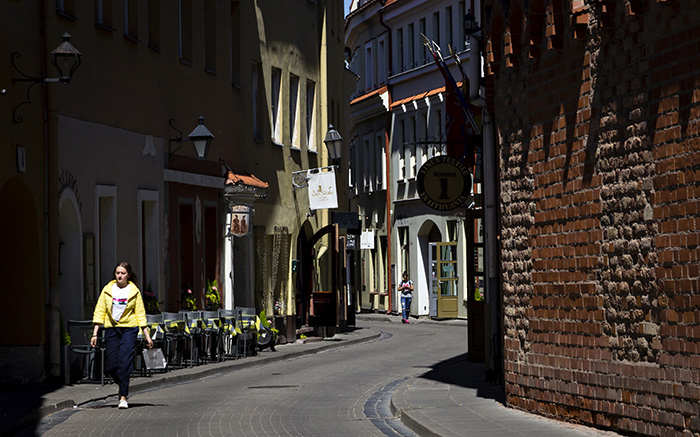 A small street in the Old city of Vilnius.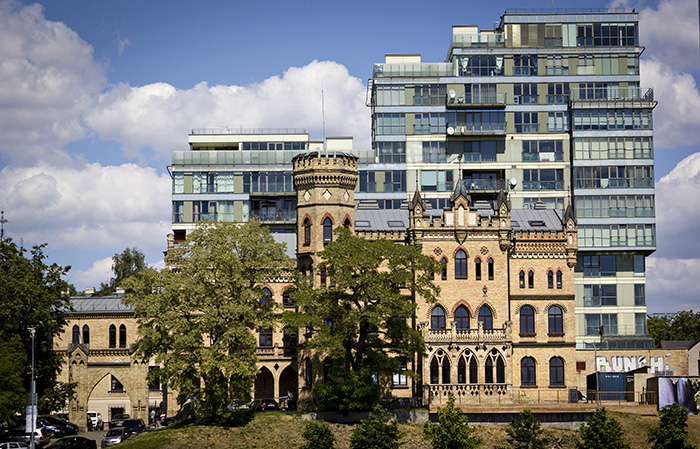 Buildings outside the historic center.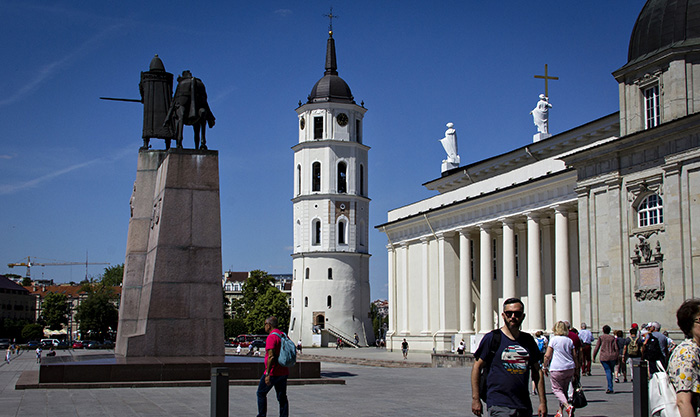 The cathedral square in Vilnius, with the white bell tower. Yes, you may have already recognized that man on the right! It's him, my friend Giamma that you met two posts ago ( Porto / Azores ). He is not a very social-media person, so you can find him only here, exclusively on Dekaro Diary! There was also the other friend of that trip, Riccardo.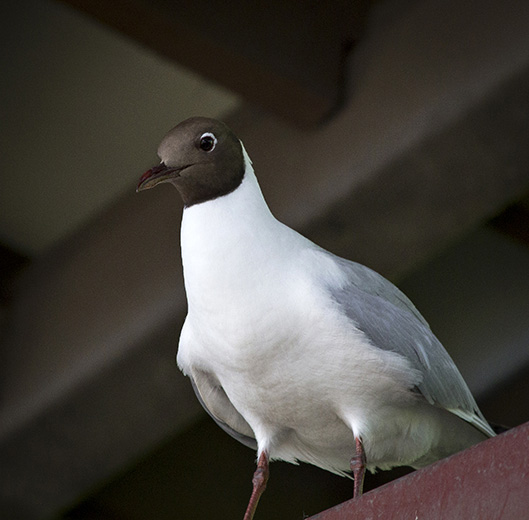 Bird.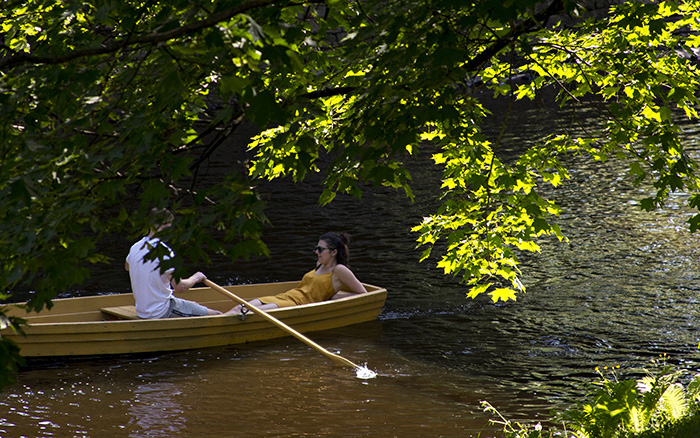 A river inside a park in Riga. The Baltic republics are surrounded by forests.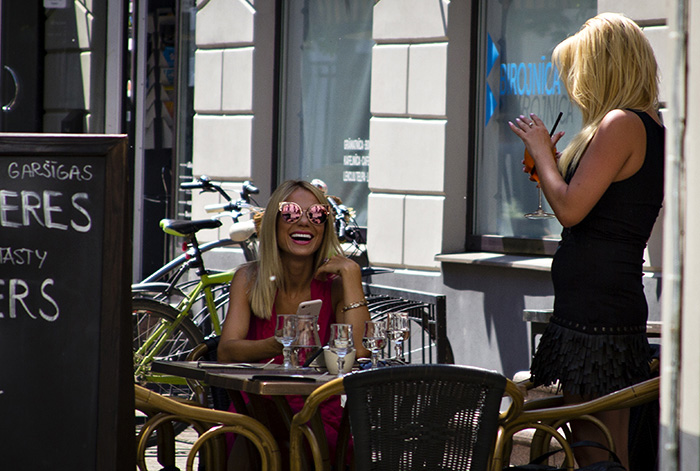 At the great request of my friends (old, new, close, only acquaintances, of every place, origin and latitude): the typical Baltic women. In fact those of you who know me only through my writings, so full of wisdom, will think that in the everyday life I'm surrounded by enlightened people, cultured, refined, with whom one discerns history, philosophy and art between an open book and a coffee. In reality, by personal choice, I have always preferred "common" people, I mean people not very cultured and refined, but simply with a good heart. I have never regretted this choice, but you can imagine how they reacted when they knew I was going to the Baltic republics, notoriously populated by big blondes of wild ancestry, and how many obsessive requests for photos I received, trying in vain to make them understand that it is not exactly my style. [I'm kidding of course, I don't want now to make upset even my English-speaking friends, as happened with some touchy Italian friends]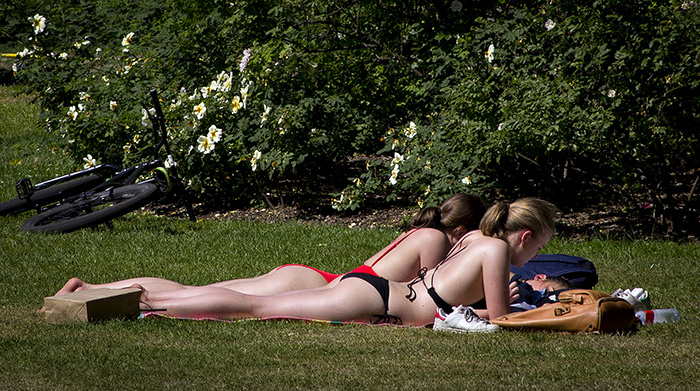 Yes, this one because I was asked for some specific anatomical details. Jokes apart, this photo shows the incredible and unexpected hot weather during that week.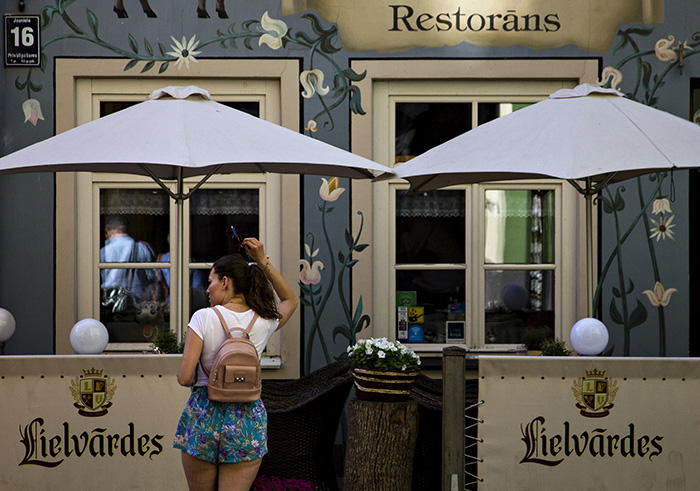 Restaurant.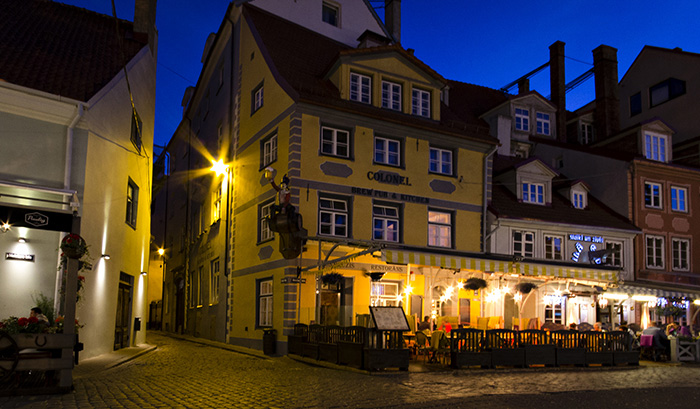 By night.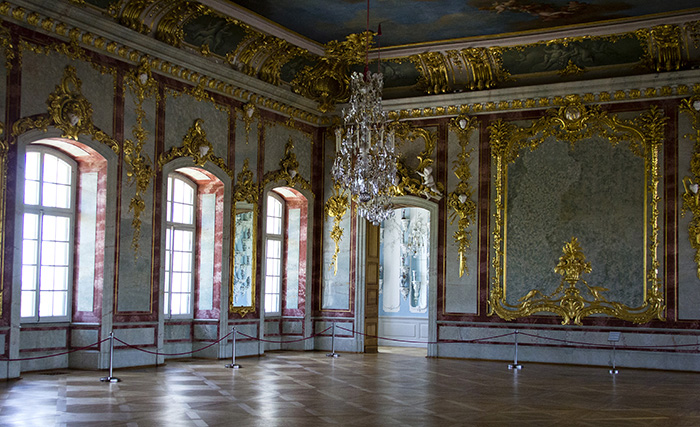 A room of the sumptuous Rundale Palace, near Bauska.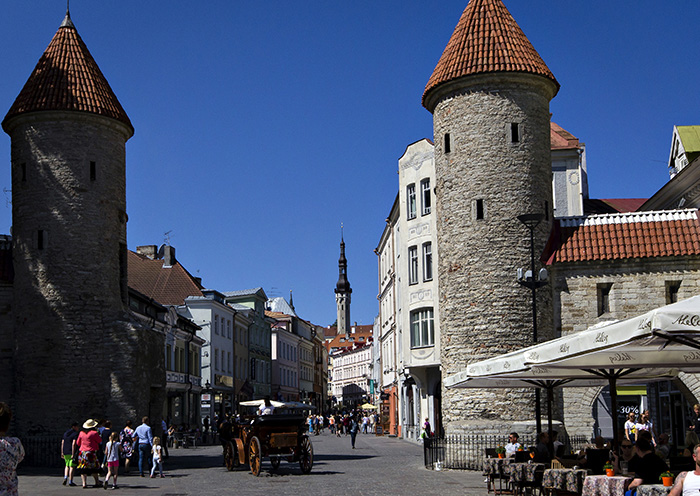 One of the entrances of the Old city of Tallinn, Estonia.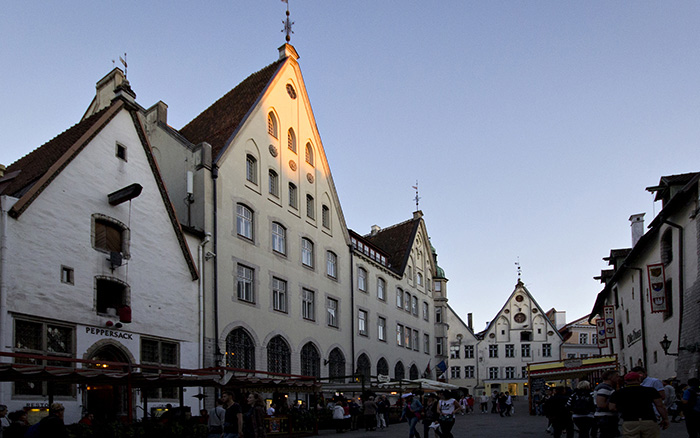 Typical Baltic houses.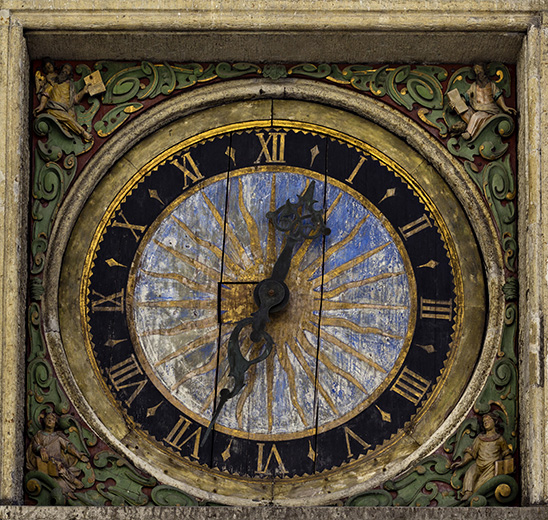 Clock on a church wall.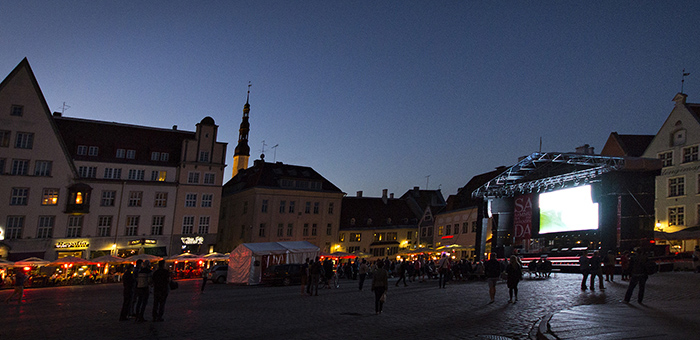 Raekoja Square, the central square of Tallinn's Old Town. Being June the sky remained a bit clear even in the middle of the night.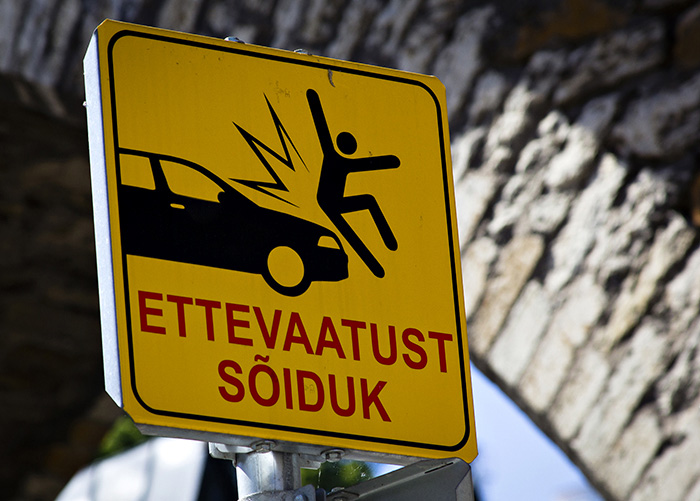 And this is the typical Estonian swear: "Ettevaatust soiduk"! Very vulgar.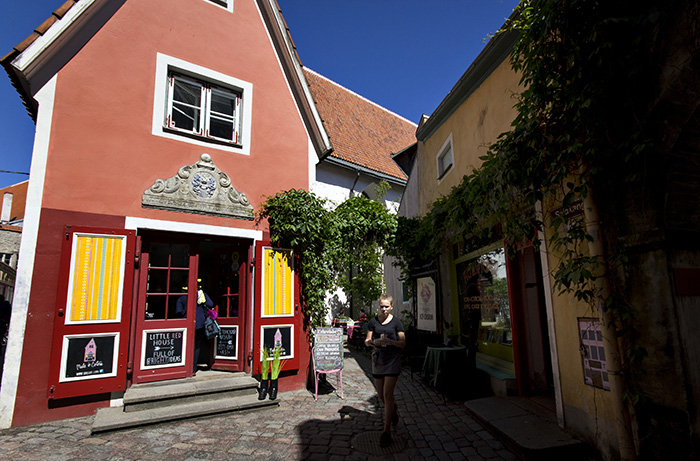 Little street.
A waterfall on Jagala river. As I said, just a little away from the cities there are woods and nature.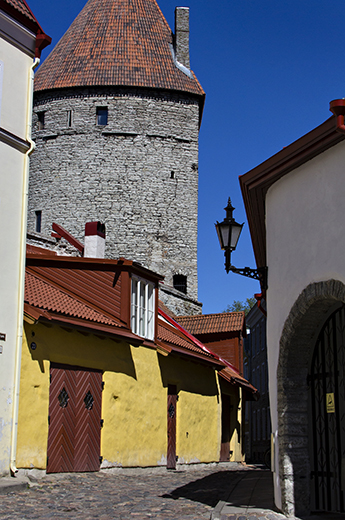 Street.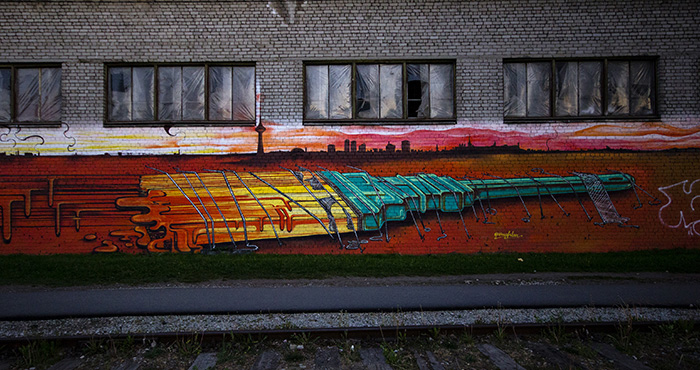 Mural in a former industrial area of Tallinn, now filled with pubs and clubs.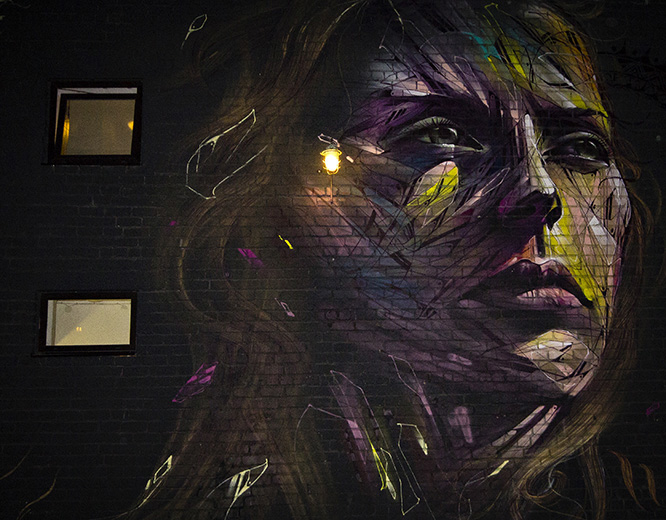 Another mural.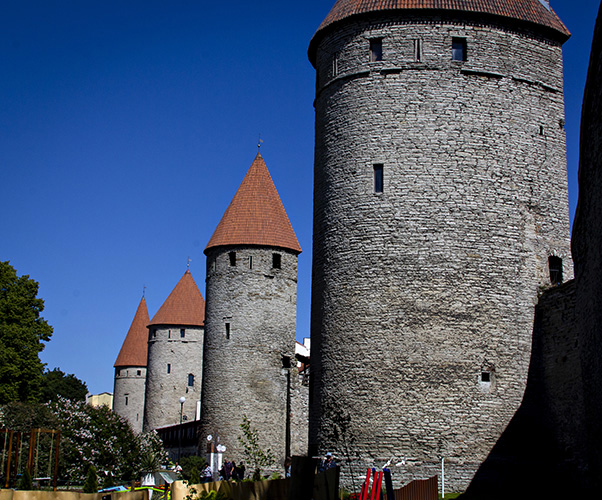 The watchtowers on walls surrounding the old city.
On the way back I had a little misadventure. Giamma and I had already printed ours check-in, with number seat assigned, when, at the bag drop, we were told there was an overbooking, that is an absurd trick to hope to earn a little bit more money: they sell more seats available in the hope that someone will not arrive for boarding. Yes, it is absurd and I think also illegal, apart that I can't see the logic, since after they have to pay hotel, taxi, another flight, a refund (in my case 250 euros) etc … plus bad publicity, just in the hope to gain a little bit more in case someone does not show up. But you know, business choices now reflect the delirium of their managers.
And the ticket was also very expensive, five times the one for going there, with the always efficient low-cost Ryanair!
They changed my ticket and said I had to wait at the boarding gate. When everyone boarded they told me that I could not flight, without any possibility of opposing the decision. Giamma, before embarking, had suggested me to try a last request, saying that I could not miss that flight, but my performance had the only effect of calling the police when I theatrically banged my fists on the Gate desk. However, there were no consequences. Then they sent me to a nice hotel in the center and the next day they put me on a Lufthansa flight. But the first plane had a delay and I lost the connection, so I had to stay overnight in Frankfurt! Of course also in this case all paid. After two days, I finally managed to return to Malta.
What else can I say… never buy a ticket with AirBaltic!
However, I conclude with this photo in a Tallinn restaurant with my travel friends Giamma and Riccardo. The candle I'm going to blow represents the 100 countries visited!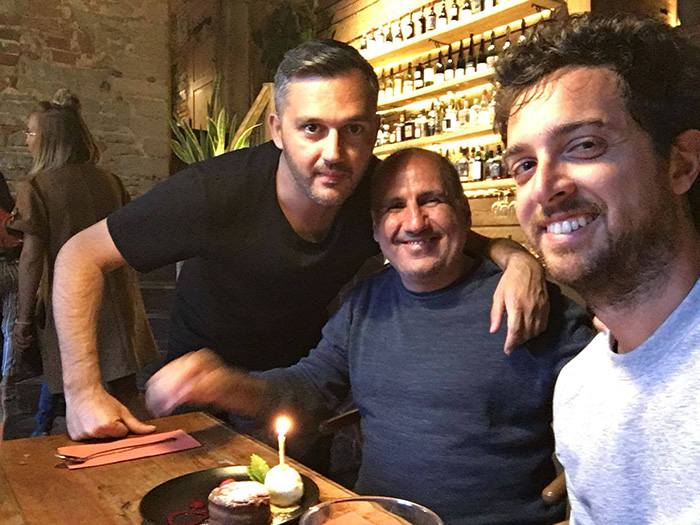 And by popular demand (one) the interactive map of the countries visited:



Well, I'm almost thinking to stop here. So, this may be the last episode of Dekaro Diary! I don't know… we will see, however for now I leave you with the verses of Baudelaire :
To a child who is fond of maps and engravings
The universe is the size of his immense hunger.
Ah! how vast is the world in the light of a lamp!
In memory's eyes how small the world is!
One morning we set out, our brains aflame,
Our hearts full of resentment and bitter desires,
And we go, following the rhythm of the wave,
Lulling our infinite on the finite of the seas:
Some, joyful at fleeing a wretched fatherland;
Others, the horror of their birthplace; a few,
Astrologers drowned in the eyes of some woman,
Some tyrannic Circe with dangerous perfumes.
Not to be changed into beasts, they get drunk
With space, with light, and with fiery skies;
The ice that bites them, the suns that bronze them,
Slowly efface the bruise of the kisses.
But the true voyagers are only those who leave
Just to be leaving; hearts light, like balloons,
They never turn aside from their fatality
And without knowing why they always say: "Let's go!"
Those whose desires have the form of the clouds,
And who, as a raw recruit dreams of the cannon,
Dream of vast voluptuousness, changing and strange,
Whose name the human mind has never known!

… And then, and then what else?