Dear readers, this is the last episode of the journey. I'm already back in Italy, and I'll tell you the last part of the trip: Cuba.
About Cuba, we could talk for an entire blog, especially from a political perspective. Who loves it, who hates it, who sees it as an example of the failure of communism, who sees it as a success, pointing out that, despite the economic embargo lasting for decades, the average standard of living is higher than in neighboring islands like Haiti, Santo Domingo, and Jamaica. Even the majority of Mexicans are worse.
The embargo has been imposed by the United States for supposed violations of human rights. During this trip, I went through most of South and Central America, where the crimes against humanity committed by the U.S., directly or indirectly, are literally unspeakable and have nothing to envy those Nazis. But they speak of human rights in Cuba, that thanks to the revolution, avoided them! It seems a joke.
It is, anyway, true that the dramatic problem of censorship is unacceptable to us that can say everything we want. As long as we stay within the limits of what the power wants to listen to. Otherwise, it's better to be ready to run inside an Ecuador embassy because they will always find a girl with whom we fucked without a condom. In summary, in Cuba there is a ban to transmit. In our countries, there is "permission to transmit and the prohibition to speak".
I came to Cuba already 15 years ago, not much has changed. The center of Havana is literally falling apart: a piece of concrete from a cornice missed me for a couple of meters before disintegrating to the ground. Most grocery stores are decrepit and usually empty.
The prices between tourists and Cubans are very different: next to a store that sells a pizza for 5 cuc ($5, not even at Leicester Square in London they dare so much), there is one that sells the same pizza for 5 pesos, one-twentieth of a dollar! Sometimes, tourists can buy in pesos (as in my previous example), sometimes not. To sleep and eat, you can spend a lot or very little. I had a large apartment in the center of Havana, all to myself, for only 15 dollars. Getting around is usually expensive.
Still, Havana is magical and unique. Gorgeous large American cars from the 1950s pass through the streets, usually still in perfect condition. In the downtown streets, people listen to music, play dominoes, baseball, football. They are always ready to strike up a conversation, telling their life and speaking badly of the government. You are never alone and, despite the poverty, it is not dangerous, unlike most of the big cities in Central and South America.
In the night many people stay on the street, by the door of their houses. Among the dim lights, there are occasionally cocktail bars, some elegant, others ugly, where in addition to alcohol, they try to sell cigars, viagra, condoms, and more. On weekends they sit on the Malecon, the waterfront, drinking and listening to music.
A couple of days after my arrival, I was reached by Eva, the Slovakian girl who lives in Costa Rica and with whom I had traveled in Panama and Nicaragua. After two days in Havana, we went to Vinales, a place near Pinar del Rio with spectacular landscapes, where cigars and rum are produced.
From there to Trinidad, a photogenic old colonial town with cobbled streets and colorful houses.
Let's see the photos.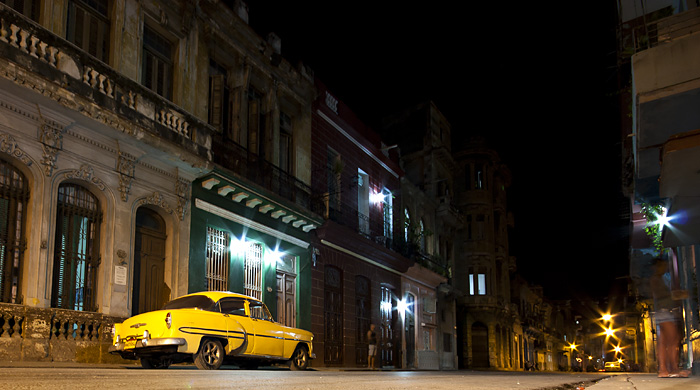 Central Havana by night.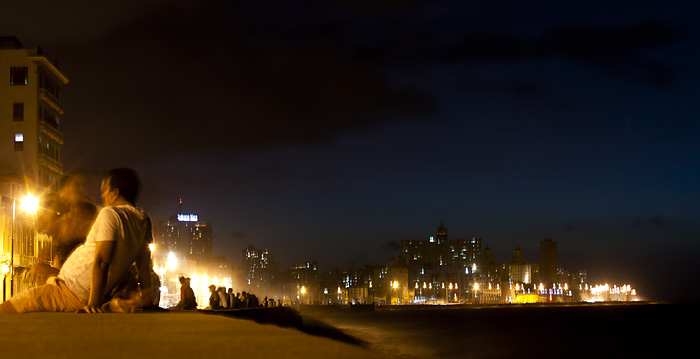 The Malecon, the waterfront.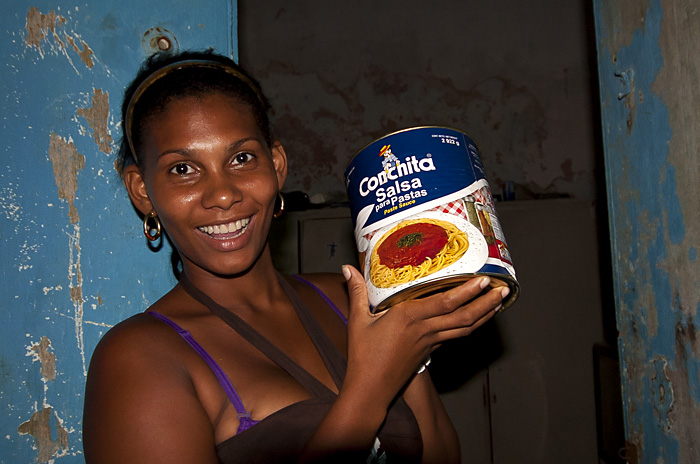 Girl asking me to cook pasta.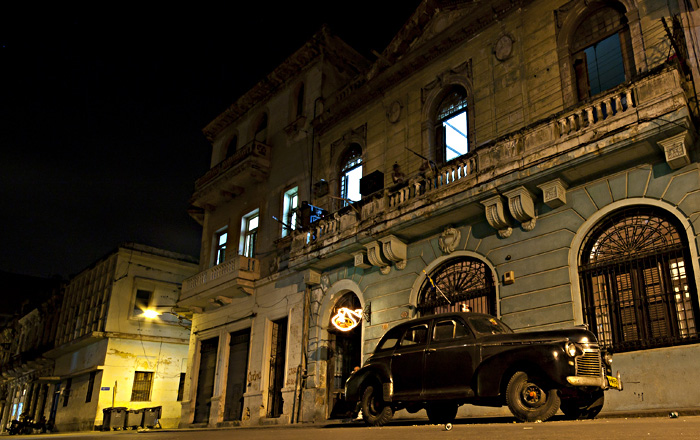 Havana by night.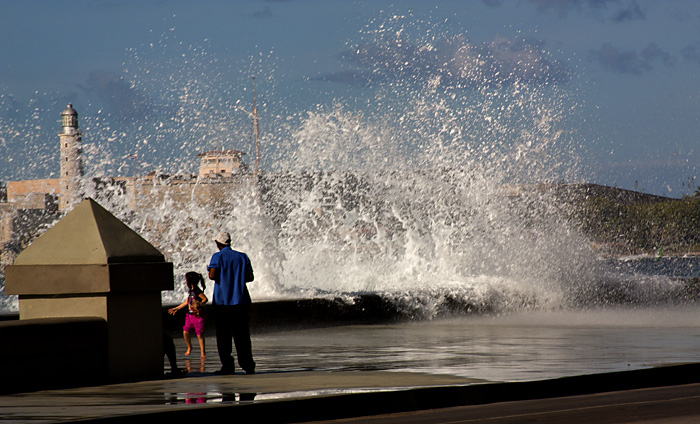 Hurricane Isaac approaches.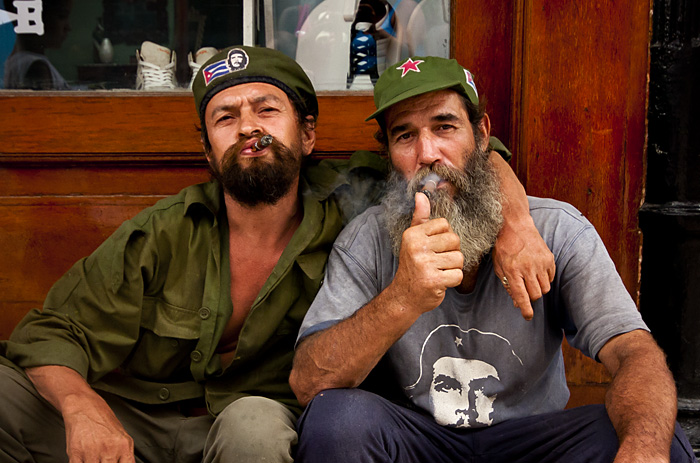 Two guys make fun of the sacred myths of the revolution.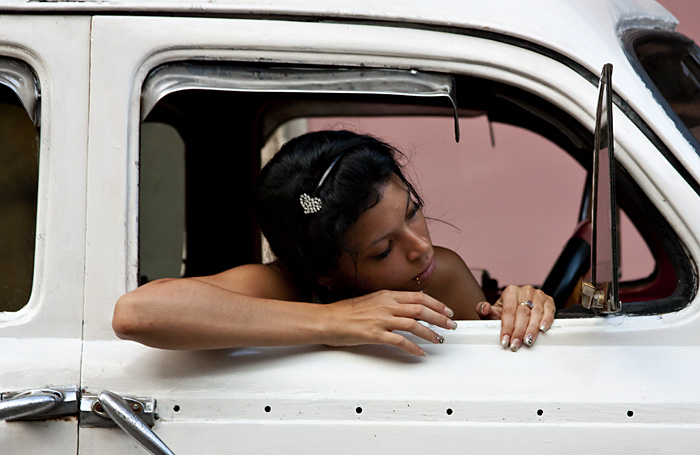 Girl.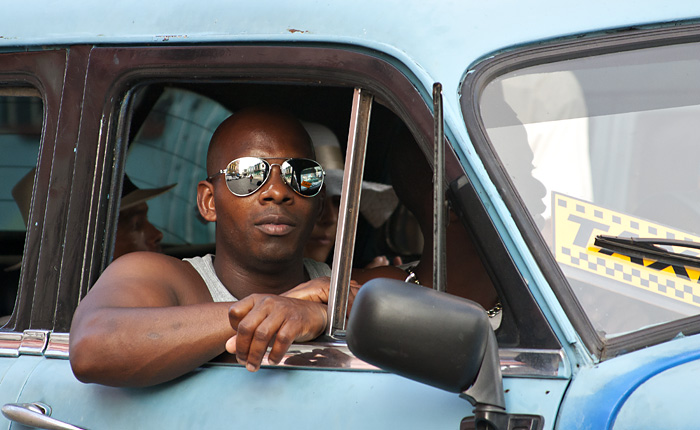 Guy.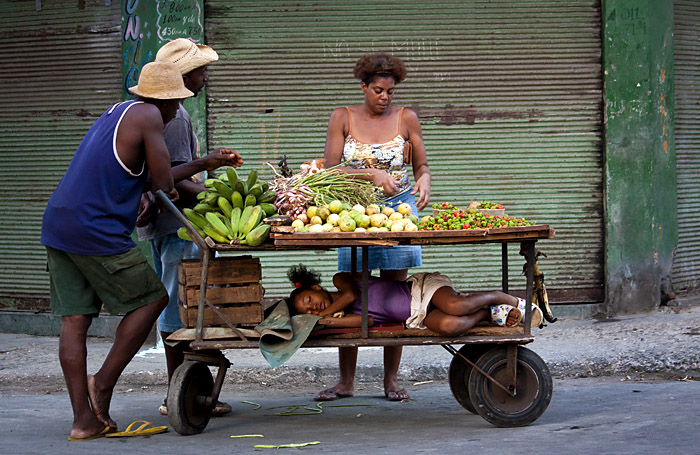 Little girl sleeping in a fruit bogie.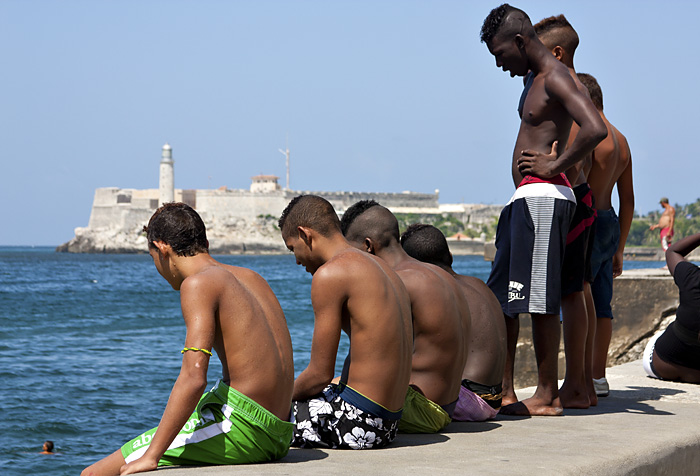 Boys diving from the Malecon.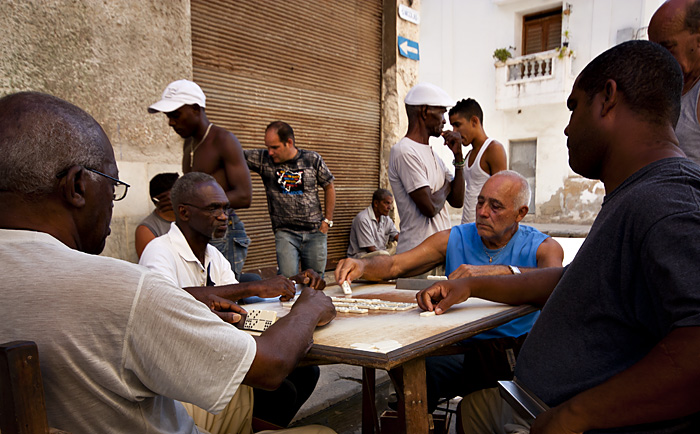 Domino players.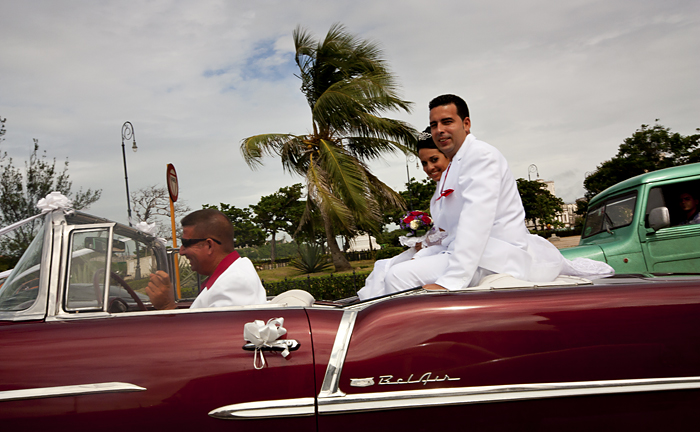 Just married.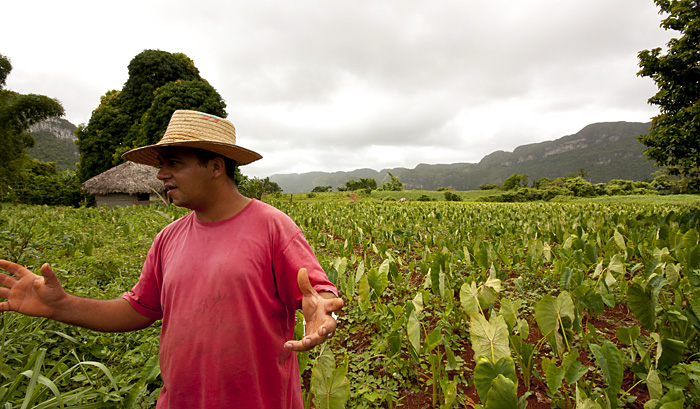 A farmer from Vinales.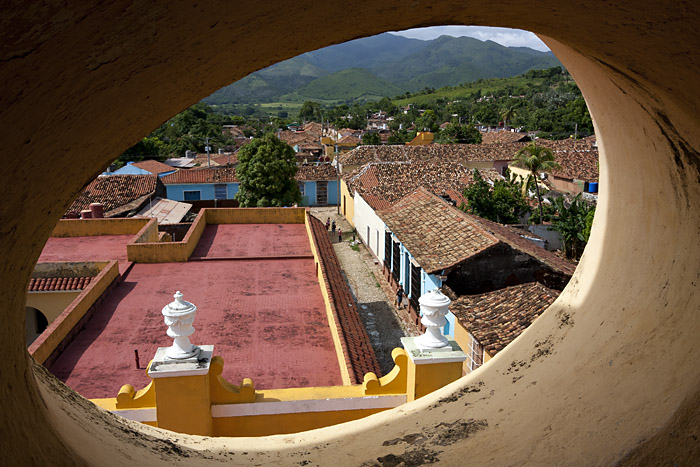 View of Trinidad.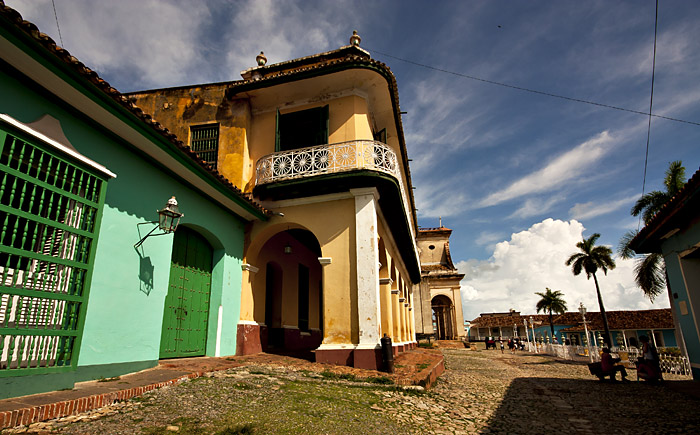 Palaces in Trinidad.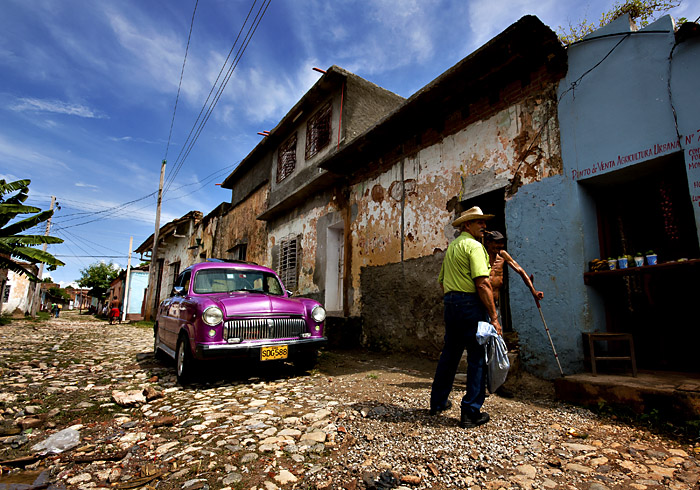 Fuchsia car.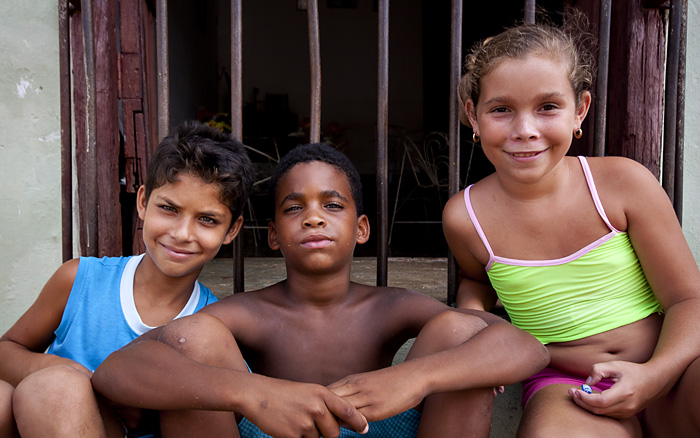 Children.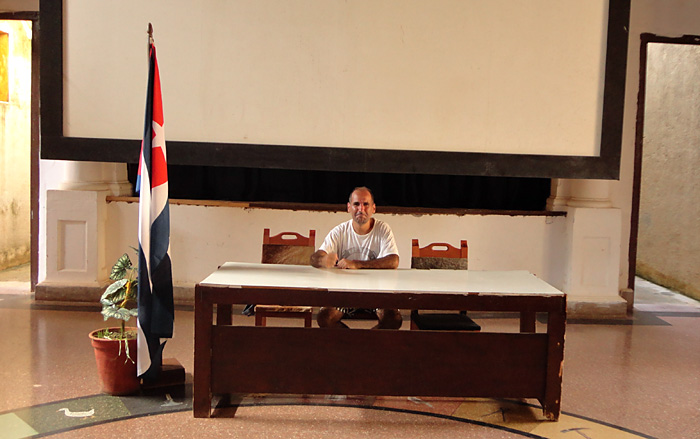 Fidel, as you may know, disappeared into thin air. So, let me speak on his behalf:
Comrades, stop being catastrophic! The victory is near, really near. The production of sugar cane rose, and rum and cigars abound. So, roll up your sleeves and let's stop whining! It's all perfectly fine… wonderful, I would say… ehhhh…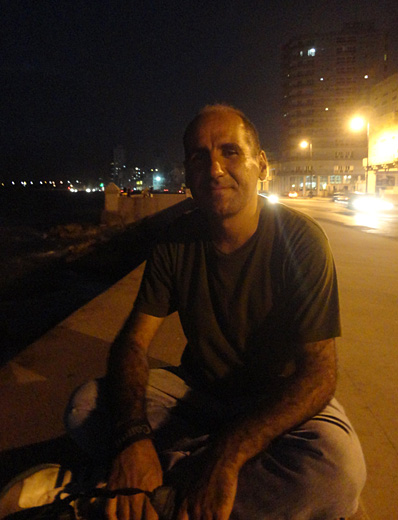 Viva la Revolucion!

Map of the trip.
Quick summary. I started on January 17th in Salvador de Bahia, Brazil. I went south to Arraial d'Ajuda, then north along the coast passing through Maceiò, Olinda, Recife, Praia da Pipa, Natal, Fortaleza, Sao Luis, until the mouth of the Amazon river in Belem. I sailed up the river on a cargo ship, and, after a stop in Alter do Chão, I reached Manaus. From there, at the beginning of March, I flew to Bogota, Colombia. After Villa de Leyva I went to the north (Cartagena, Santa Marta, Tayrona Park, Lost City, Cabo de la Vela, Mompos, etc …), then the south (Medellin, the Zona Cafetera, San Augustin, Pasto). In mid-April, I reached Otavalo, Ecuador.
I crossed Ecuador passing through Quito, Lake Quilotoa, Banos, the Amazon rainforest to the east, Cuenca, Guayaquil, and its beach southwest. Then quickly back in Colombia, up to Capurgana, near the border with Panama, that I reached in late May by boat through the archipelago of San Blas. I went to the Pacific side in Santa Catilina, back on the Atlantic side in Bocas del Toro, and in mid-June, I arrived in Costa Rica. There, I went on beaches on both sides of the oceans and inland areas of Monteverde and La Fortuna.
At the beginning of July, I arrived in San Juan in Nicaragua and island Ometepe, Granada, Leon, and Pochomil. In mid-July, I crossed San Salvador quickly and came to Antigua in Guatemala. After that, I went to the Honduras Maya site of Copan and back to Guatemala to Lanquín, Semuc Champey, Tikal, Rio Dulce, and Livingstone, from where I reached Caye Caulker in Belize with speed boats. I went back to Guatemala to Lake Atitlan. At the beginning of August, I reached San Cristobal in Mexico. After Oaxaca and Monte Alban, I went to the Pacific side in Mazunte and back in Chiapas to Oventic and San Juan de Chamula. After a stop in Campeche, I arrived in Cancun, on the Atlantic side, where I flew to Cuba, in which I visited Havana, Vinales, and Trinidad.
Eight months, 12 countries, thousands of miles run, no mobile phone, new friends, and amazing images and memories that will bounce forever in my mind.
And a selection of photos of the whole journey.
Anyway, I'll continue to write at this address (www.dekaro.com/blog_en) my future adventures, so stay in touch!
Thanks for following me! Kissessss