Hello everyone! I'm in San Jose, the capital of Costa Rica and I'll tell you quickly what happened in the meantime. From the archipelago of San Blas (Kuna Yala) I and Aparicio went to Panama City thanks to a shift from a Colombian couple. After a few hours of roads shrouded by dense vegetation, the city appeared from a distance, with large, white modern skyscrapers.
The next day we visited it, but to be honest we didn't see much, because, as in those strange dreams where you have to do something very simple that is continually blocked for some reason, so I and Aparicio between traffic jam, wrong bus stops, downpours etc… didn't manage to see the mirador of the Panama Canal and the old town.
It 'also true that there was not much to see because Panama city was destroyed several times, most recently in 1989 by U.S. Marines to get rid of the dictator Noriega, a faithful and brutally former ally, trained directly by the CIA, that ultimately didn't follow all the directives from Washington (as happened to many other bloodthirsty dictators, Saddam Hussein, for example).
The invasion killed nearly 3,000 civilians, more or less like the September 11 attacks, but because these were Panamanian and not U.S. dead, no one wrote that it was the "most heinous crime that the humanity witnessed"," the return of the era of barbarism", or something similar. No, actually in the history books the invasion is officially remembered as a "surgical operation". Yes, by Jack the Ripper.
From Panama City we arrived on the Pacific coast at Santa Catalina. On the bus we met two girls, Eva, Slovak, and Stephanie, Canadian.
Santa Catalina is a village known for surfing, but being low season there was almost none. But we spent 3 beautiful days, also because in the place where we slept there was a table with hammocks overlooking the sea, perfect for drinking rum and wine at night.
For the record, I tried surfing for the second time in my life, the first was in Bali about 15 years ago. I can now definitely say that is not my sport.
One day we went by motor boat to Coiba National Park , an island about 20 km from the coast, where until a few years ago there was a penal colony. Snorkeling we saw fish of all colors and even a small shark, hidden under a rock.
After, I, Aparicio and Eva went to Bocas del Toro, again on the Atlantic, passing through the spectacular national park La Amistad. The archipelago of Bocas del Toro is also very nice although a little' tourist. If the snorkeling in Santa Catalina has been so far the best about fish seen, the one in Bocas del Toro has been the best for the corals, as wonderful colored abstract compositions.
I was a bit amazed by Panama because I thought it was a place where there isn't much to see and to do. Instead even just with the places I've visited, it has nothing to envy of nations which are regular tourist destinations.
Finally we arrived at Puerto Vejo in Costa Rica, another seaside town on the Atlantic, full of lunatic rasta men. There we have been reached by Jorge, a Costa Rican friend of Eva, and yesterday they gave me a ride until here in San Jose, through beautiful streets and parks. On the way we saw a weird monkey, very lazy, embraced motionless to a tree trunk.
And now I'm alone, but tomorrow I will reach Aparicio that, instead of flying back to Brazil, has at the last moment changed the ticket and is now on the Pacific coast.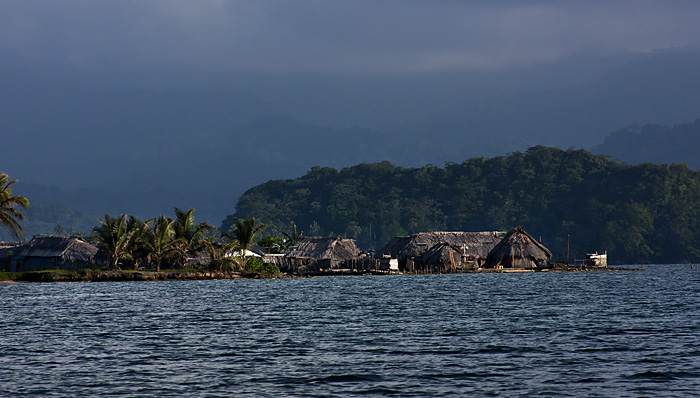 The Kuna village of Caledonia, in the archipelago of San Blas (Kuna Yala) in Panama.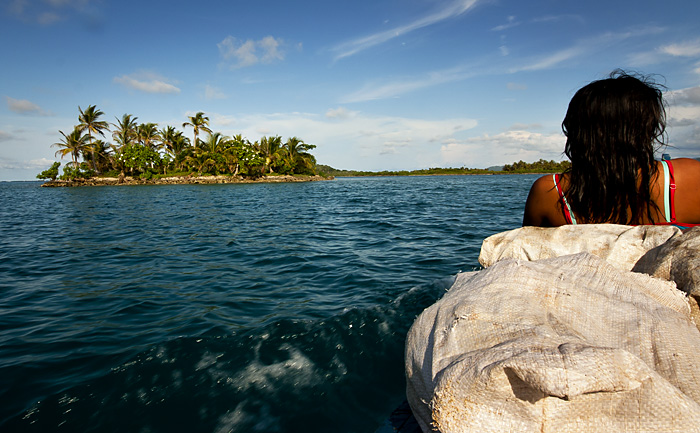 On a boat in the archipelago of San Blas.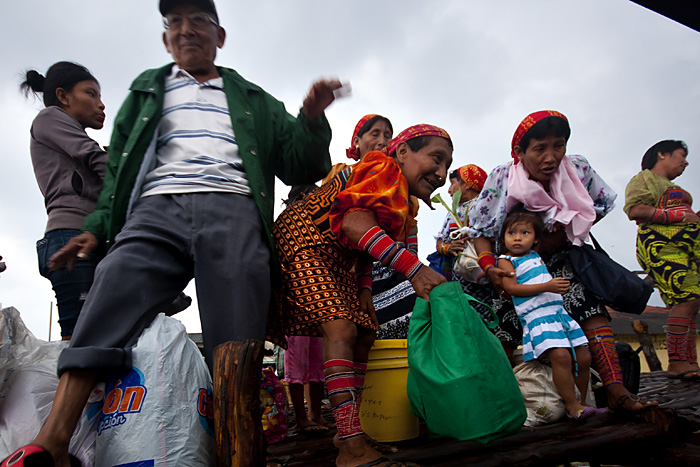 At the pier of a Kuna village.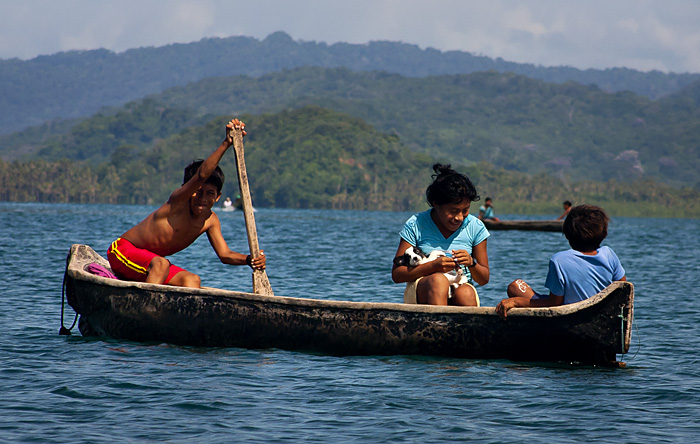 Canoe with a little dog.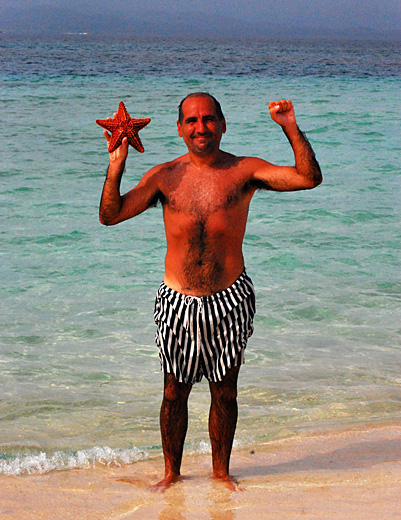 With a 5 points red star…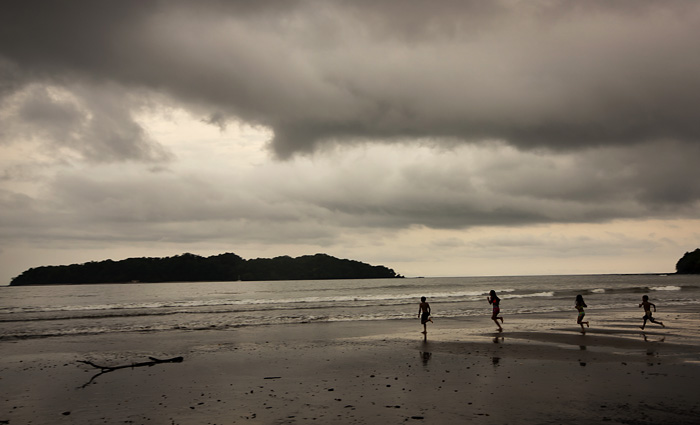 On the Pacific side, the Santa Catalina beach.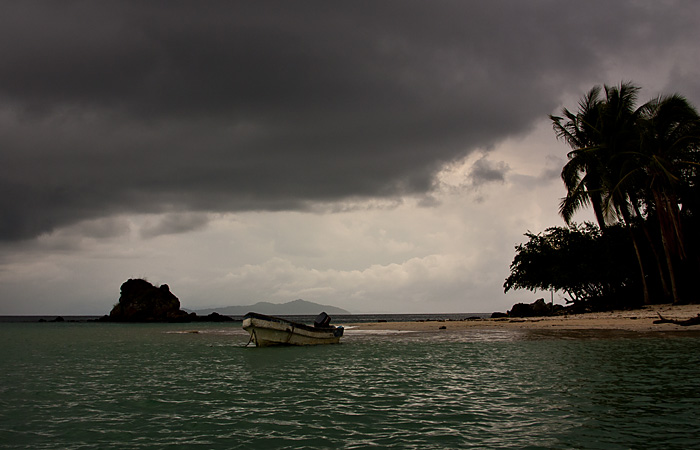 An island of Coiba national park.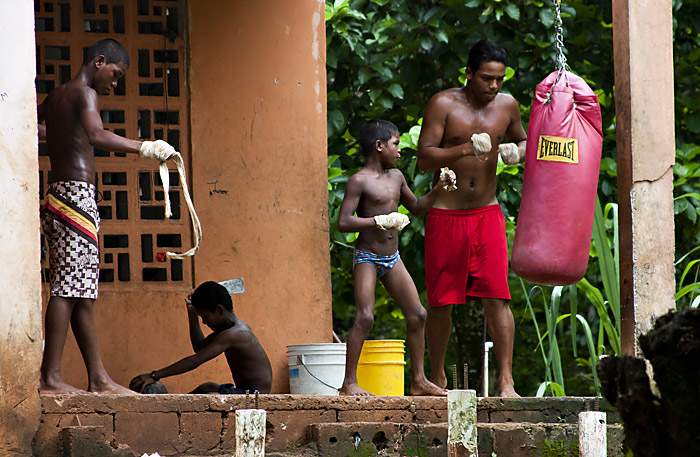 Boxers training.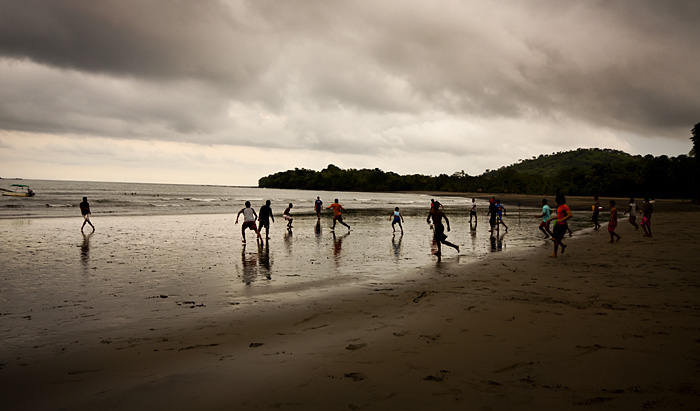 Football match on the beach.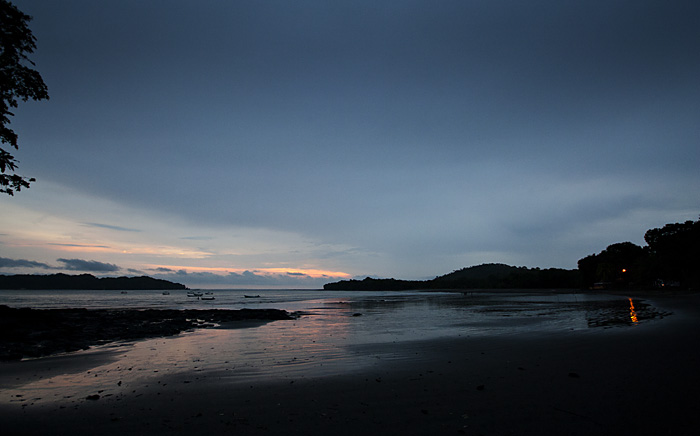 After sunset.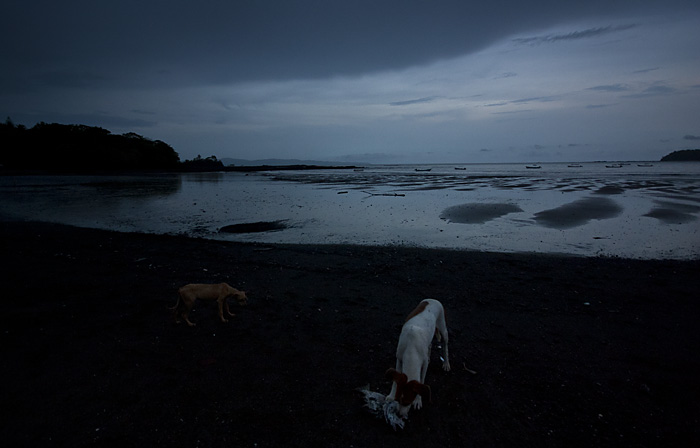 Dogs on the beach at evening.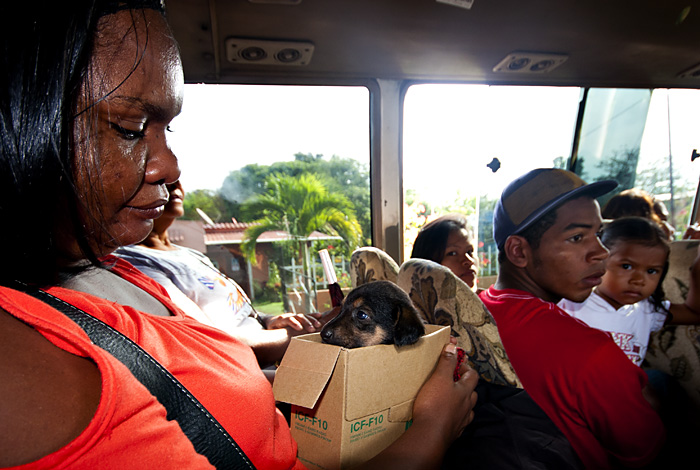 On a little bus.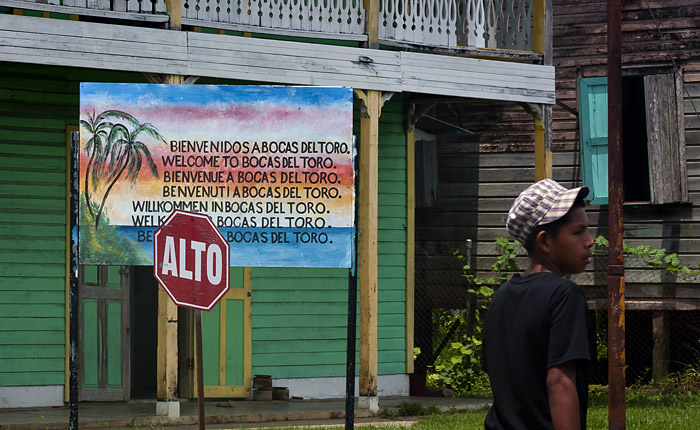 In Bocas del Toro, again on the Atlantic, almost at the border with Costa Rica.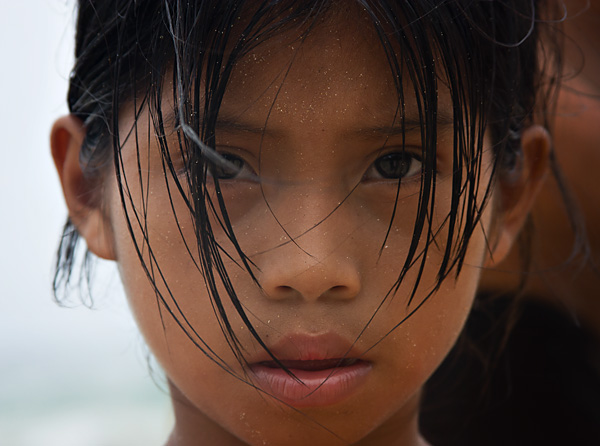 Little girl.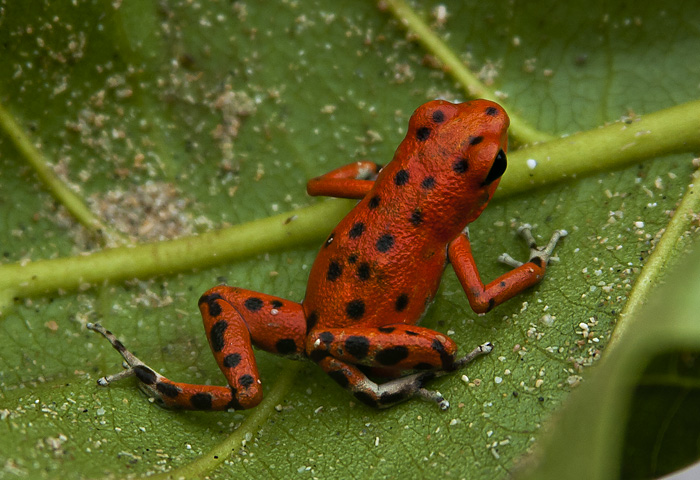 The typical red frog, red-black indeed, of Panama and Costa Rica. It's skin is poisoned and in fact is called dart frog because the natives used them to make their arrows poisoned. Probably, taken in small doses, give an hallucinogenic effect. Jorge, the Costa Rican guy, once accidentally touched one very poisonous and because of a small wound, the poison passed into his blood and he risked to die!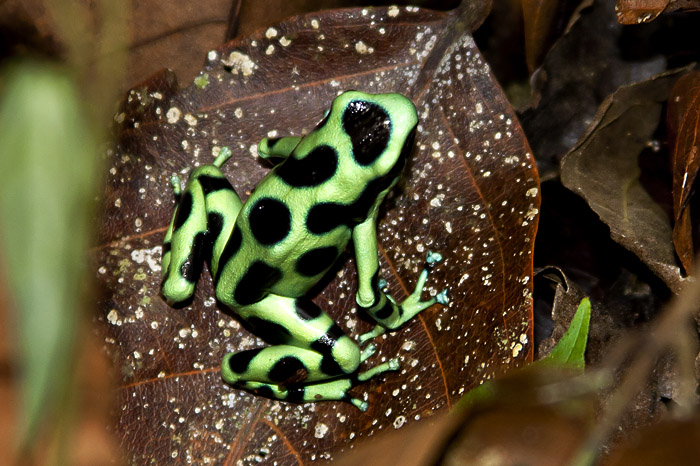 And this is the green frog, also poisonous. As already said in the post on the lost city the temptation to make a lick was very strong!
"Dekà but… (also watching the photos) instead of thinking only to lick frogs and toads, would not be better trying to lick something else?

"
Mmm… your comment is a little vulgar, but maybe this time you are right.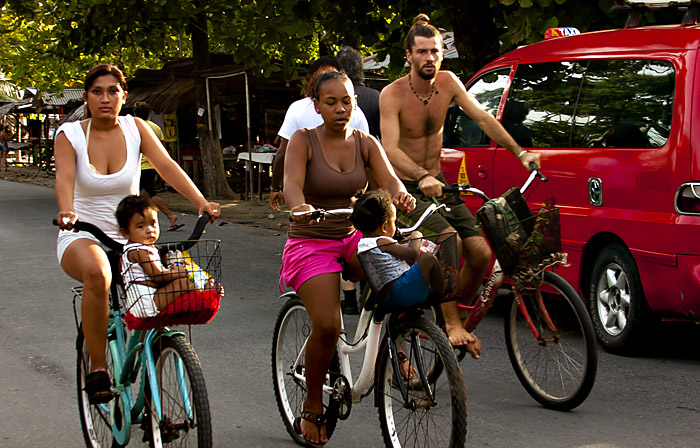 Puerto Vejo in Costa Rica.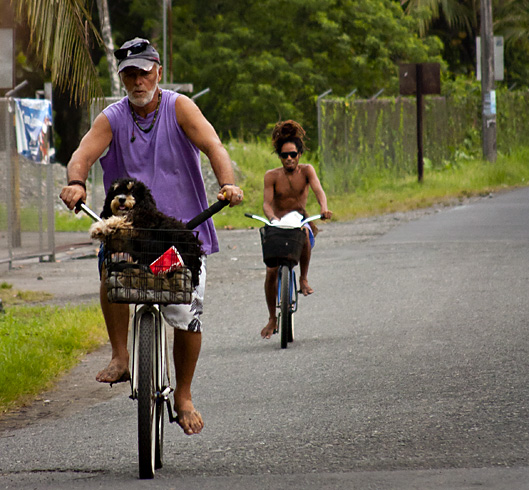 People on bike.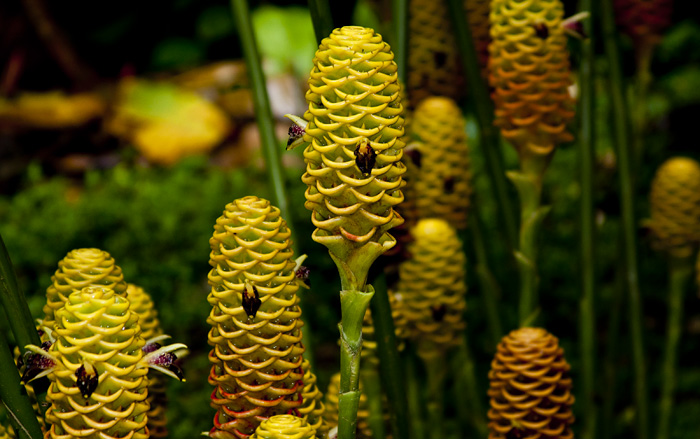 A plant. In Costa Rica there is a tremendous variety of plants and animals. A quarter of the territory consists of protected national parks.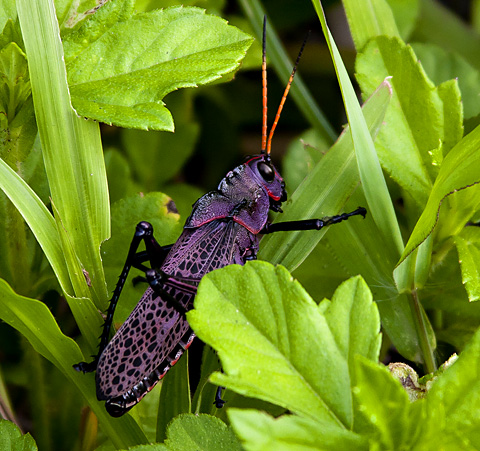 Purple grasshopper.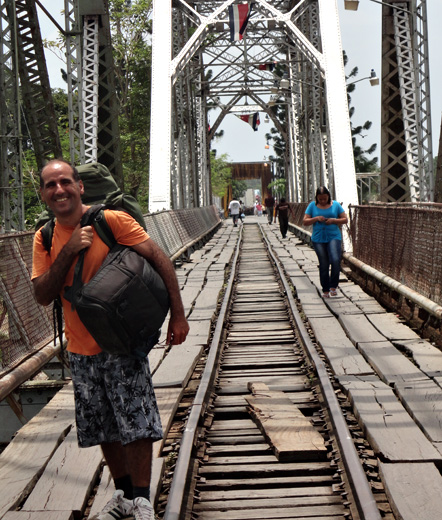 Me at the border Panama / Costa Rica

Click here for a bigger map.
New map of the places I visited. On the coast of Brazil until the mouth of the Amazon river. On a cargo boat until Manaus, where I took a flight to Bogotà. Up in Colombia on the Caribbean coast, then down until Guyaquil in Ecuador. Again in Colombia, then Panama and Costa Rica, hopping between the Atlantic and Pacific Ocean.
I answer to the comment:
Thank you Kaliopi! I'm very happy you are enjoying my stories and photos. I hope to see you again, somewhere

kisses!